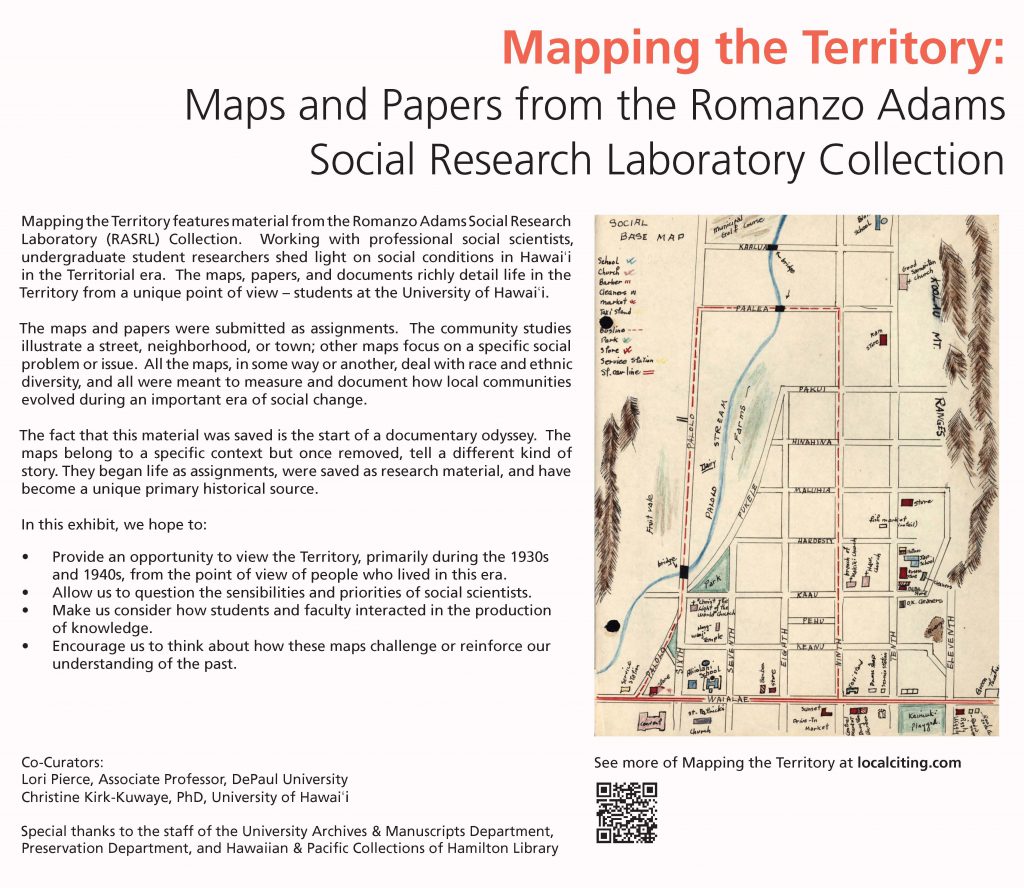 January 17 – June 30, 2017
Tuesday – Friday (10:00am – 4:00 pm)
Moir Reading Room
5th Floor, Hamilton Library Addition
University of Hawai'i at Mānoa
Mapping the Territory is an exhibit of material from the Romanzo Adams Social Research Laboratory (RASRL) Collection. This Collection is named for Romanzo Adams who founded the Department of Sociology and studied race and race relations in the Territory from 1920 to 1942.   The exhibit features the work of undergraduate student researchers who worked with professional social scientists to shed light on social conditions in Hawai'i in during the Territorial Era.  The maps, papers, and documents are a richly detailed account of life in the Territory from a unique point of view – students at the University of Hawai'i.
The maps and papers were submitted as assignments.   The community studies illustrate a street, neighborhood, or town; other maps focus on a specific social problem or issue. All the maps, in some way or another, deal with race and ethnic diversity, and all were meant to measure and document how local communities evolved during an important era of social change.
The fact that this material was saved is the start of a documentary odyssey. The maps belong to a specific context but once removed, tell a different kind of story. They began life as assignments, were saved as research material, and have become a unique primary historical source.
In this exhibit, we hope to:
Provide an opportunity to view the Territory, primarily during the 1930s and 1940s, from the point of view of people who lived in this era
Allow us to question the sensibilities and priorities of social scientists
Make us consider how students and faculty interacted in the production of knowledge
Encourage us to think about how these maps challenge or reinforce our understanding of the past.
The RASRL Collection is part of  the University Archives and is housed in the University of Hawai'i at Mānoa Library.  For more information, email archives@hawaii.edu or call 808-956-6047
Mahalo
University of Hawai'i Library Archives & Manuscripts: Sherman Seki and Asako Shiba
Preservation Department: Deborah Dunn, Christine Takata, Malia Van Heukelem
Hawaiian & Pacific Collections: Dore Minadotani
Also Joy Emoto, Charise Michelsen, Dainan Skeem, Lynn Davis
Additional researchers
Michael Kirk-Kuwaye for his research on and write up of Ōla'a Village
Background research by Jesse Otto on Kahuku and Reimi Davidson on Pālama
Moir exhibit design
Erica Calegari
Web design
Greg Kuwaye
UHM Campus Center Graphics
Monica Woolsey